HIGH
TECHNOLOGY,
SMART
SERVICE.
FROM THE TECHNICAL CONSULTANCY PHASE, TO THE PRODUCTION AND TESTING ENGINEERING, RIGHT UP TO THE PROCUREMENT OF ALL THE NECESSARY COMPONENTS: WE DO NOT JUST ASSEMBLE A BOARD, WE PROVIDE A HIGH-QUALITY FULLY-FINISHED PRODUCT THAT IS READY TO ENTER OUR CLIENT'S PRODUCTION CHAIN. THANKS TO THE THREE FULLY INTERCHANGEABLE PRODUCTION FACILITIES, WE ARE ABLE TO GUARANTEE MANUFACTURING CONTINUITY, AS WELL AS LOGISTICS SERVICES VIA THE KANBAN METHOD, BLANKET ORDERS AND BUFFER STOCK OF THE FINISHED PRODUCT OR DEDICATED COMPONENTS. INDUSTRIAL CULTURE AND ARTISAN CARE AT EVERY PROCESSING STAGE: THIS IS WHAT MAKES US UNIQUE.
OUR QUALITY:
KEY FACTS.
BOTH EGO GROUP PRODUCTION SITES ARE ISO9001:2015-CERTIFIED, STRUCTURED ACCORDING TO THE DISASTER RECOVERY MODEL AND ADOPT THE SAME PROCESSING TECHNOLOGIES, WITH A VIEW TO A FULL BACKUP. OUR SITES ARE EQUIPPED WITH SMT AND AUTOMATED OPTICAL INSPECTION (AOI) ASSEMBLY LINES, WAVE SOLDERING LINES FOR PTH, ITC TESTING EQUIPMENT (BOTH FIXTURE AND FLYING-PROBE), X-RAYS, BGA REWORK STATION, FULLY-AUTOMATED INTELLIGENT WAREHOUSE, SPECIFIC TESTS ACCORDING TO THE CLIENT'S SPECIFICATIONS, A FINISHED PRODUCT-ASSEMBLY AND MECHANICAL PLASTIC-COMPLETION DEPARTMENT, AND THE POSSIBILITY TO PERFORM SPECIAL PROCESSES SUCH AS PAINTING/COATING, VACUUM RESIN COATING AND CO-MOULDING. THIS IS IN ADDITION TO THE MATERIAL PROCUREMENT SERVICE, THE PROFILE DESIGN AND ENGINEERING PHASE, ACCORDING TO THE TECHNICAL SPECIFICATIONS PROVIDED BY THE CLIENT, THE FMEA PROCESS ANALYSIS AND THE AFTER-SALES SUPPORT SERVICE.
"HIGH QUALITY AND QUICK DELIVERY GUARANTEE".
FROM 2015 TO PRESENT-DAY, EGO GROUP'S INVESTMENTS HAVE FOCUSED PRIMARILY ON TWO FRONTS. THE FIRST CONCERNS THE STAFF, INCLUDING THOSE WITH HIGHLY-SPECIALISED ROLES SUCH AS ELECTRONIC ENGINEERS, SENIOR BUYERS AND HIGH-PROFILE TECHNICIANS. THE SECOND IS THE TECHNOLOGICAL FRONT. THE COMPANY HAS PURCHASED THE INNOVATIVE PRODUCTION TECHNOLOGIES REQUIRED TO STRENGTHEN THE QUALITY CHAIN, IN ADDITION TO AN ENORMOUS SUPPLY OF SEMICONDUCTORS: THOUSANDS OF CODES THAT ALLOW US TO RESPECT DELIVERY TIMES AND IMPLEMENT INTELLIGENT PROCUREMENT POLICIES. THE INVESTMENTS AND CONSTANT GROWTH OVER THE YEARS, IN PARALLEL WITH THE DESIRE TO ACQUIRE AN INCREASINGLY SPECIALISED KNOW-HOW, ARE AT THE SERVICE OF THE CLIENTS FOR WHOM SUPPLY IS THE FINAL OUTPUT OF A PATH IN WHICH PROGRESS IS MADE IN BOTH NUMBERS AND EXPERIENCE.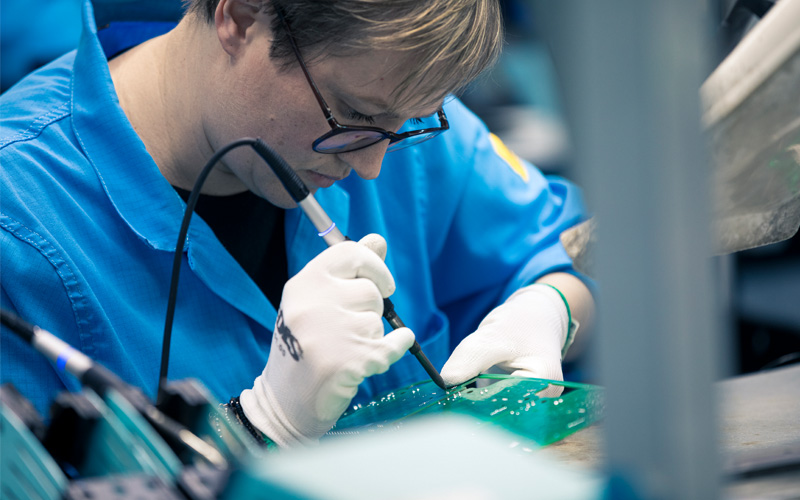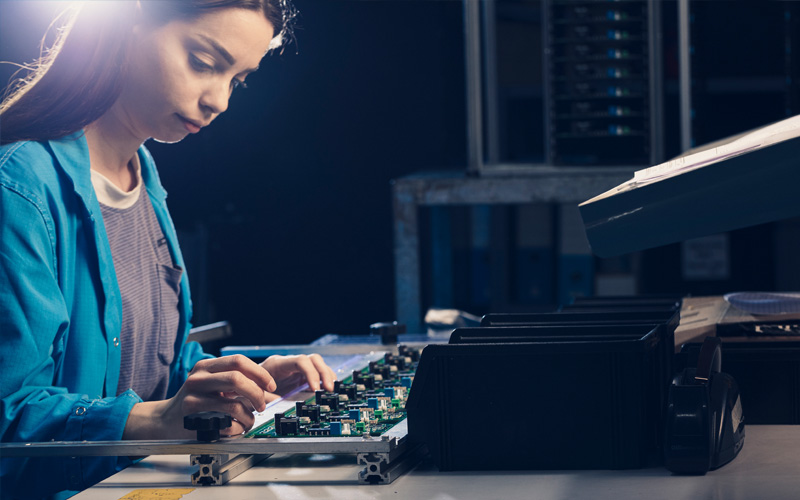 COMPONENTS PRODUCED PER HOUR
COMPONENTS PRODUCED PER DAY
GROWTH RATE IN THE LAST FIVE YEARS
SERVICES.
SERVICES THAT RANGE FROM TECHNICAL CONSULTANCY AND PRODUCTION AND TESTING ENGINEERING, RIGHT UP TO THE PROCUREMENT OF ALL THE NECESSARY COMPONENTS: WE DO MUCH MORE THAN JUST ASSEMBLE A BOARD.
R&D TECHNICAL DEPARTMENT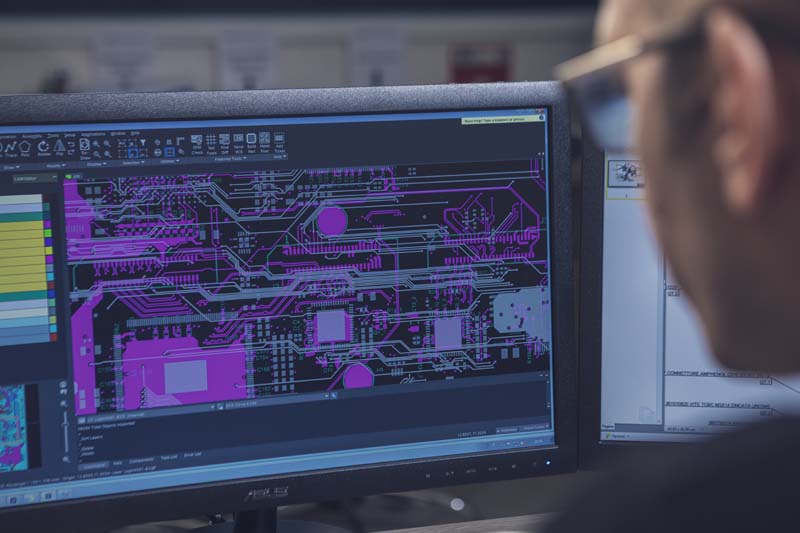 EGO'S TECHNICAL DEPARTMENT IS ON HAND TO MANAGE EVERY DEVELOPMENT STAGE OF BOTH OLD AND NEW PRODUCTS, IN ADDITION TO FEASIBILITY STUDY, HARDWARE DESIGN, SOFTWARE DESIGN, MASTER, DEVELOPMENT AND WIRING SERVICES.
PROCUREMENT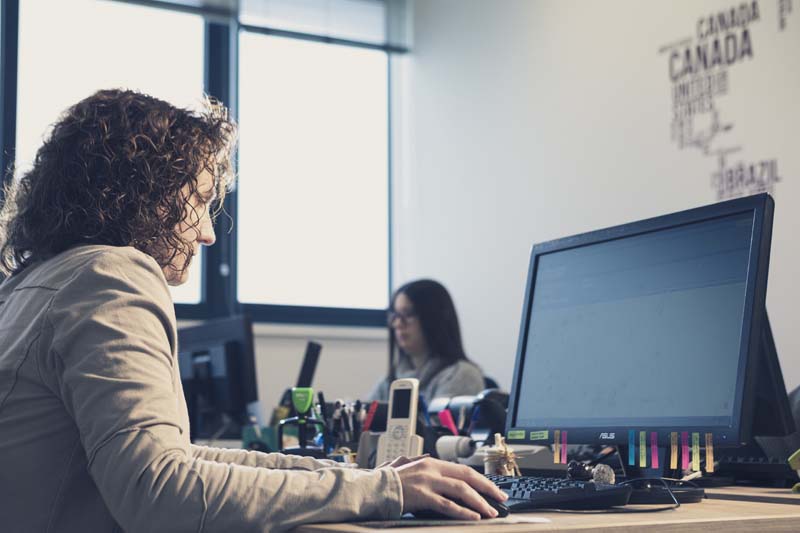 EGO BOASTS EXTENSIVE PROCUREMENT EXPERTISE: AS A RESULT OF OUR 20 YEARS' EXPERIENCE PROCURING RESOURCES ON BOTH THE ITALIAN AND WORLD MARKETS, WE ARE ABLE TO OFFER A COMPREHENSIVE SOURCING SERVICE FOR ALL PRODUCT PARTS SUCH AS COMPONENTS, WIRING, MECHANICS AND EVEN MANUALS.
SMT ASSEMBLY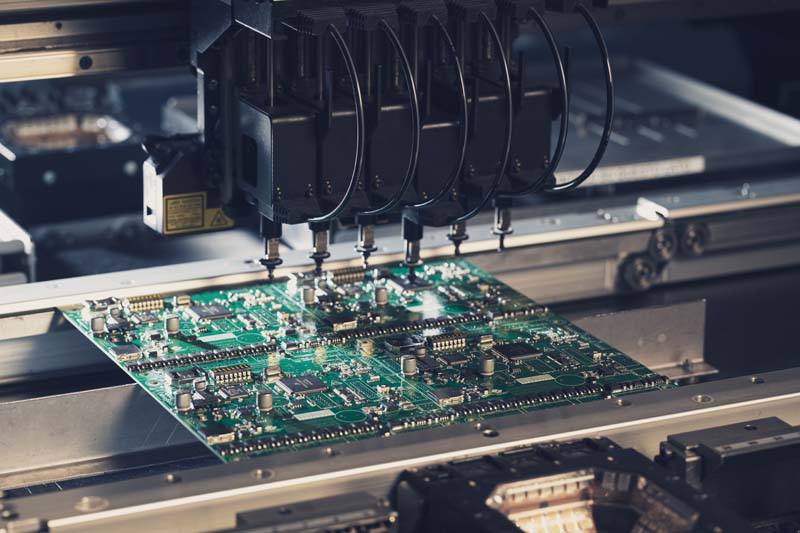 THE SMT PRODUCTION LINES ARE A STRATEGIC EGO DEPARTMENT THAT INVESTS EVERY YEAR IN BOTH MACHINERY AND HUMAN RESOURCES WITH EXTENSIVE PRODUCTION PROCESS EXPERIENCE.
THE ASSEMBLY LINES CAN ASSEMBLE BGA, ULTRA-FINE PITCH, LGA AND QFN COMPONENTS.
THT ASSEMBLY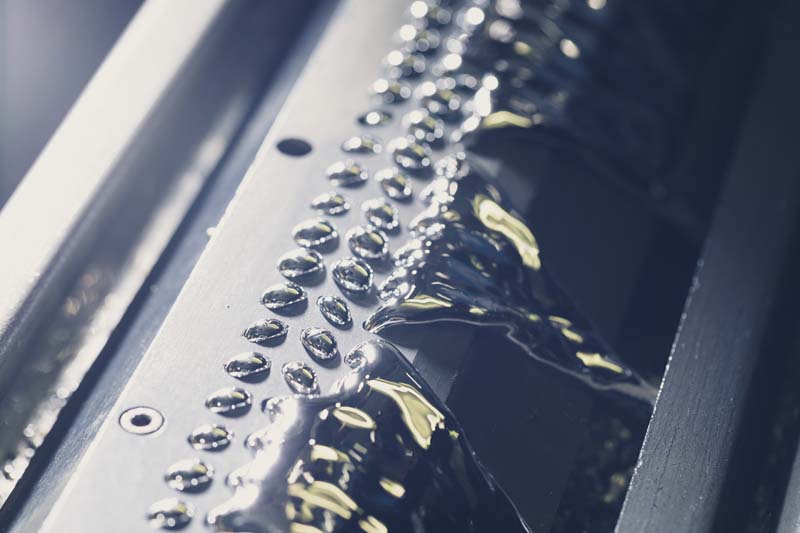 THE TRADITIONAL COMPONENT ASSEMBLY DEPARTMENTS OFFER PREFORMING, MANUAL INSERTION, AUTOMATIC INSERTION AND TRADITIONAL WAVE SOLDERING SERVICES, IN ADDITION TO A BRAND-NEW SELECTIVE SOLDERING MACHINE.
AOI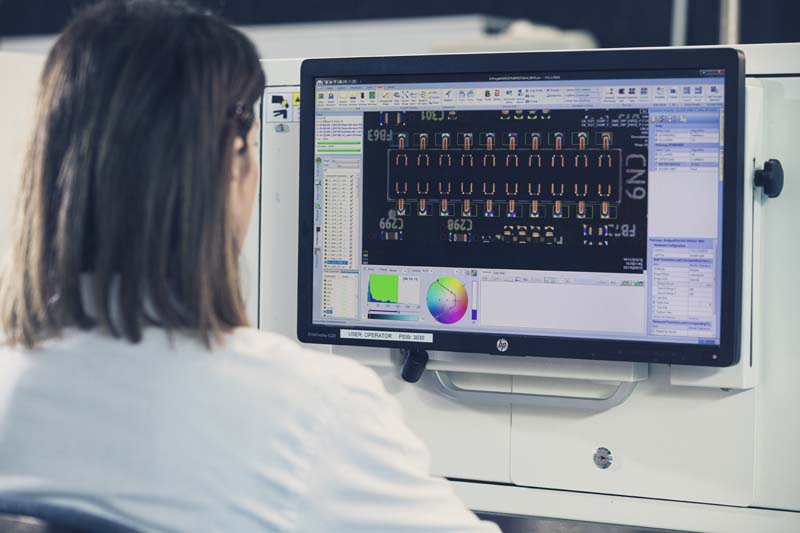 AUTOMATED OPTICAL INSPECTION IS PERFORMED THROUGHOUT THE ENTIRE SMT PRODUCTION PROCESS BY MEANS OF A DEVICE EQUIPPED WITH 5 CAMERAS AND A 3D COMPONENT AND REFLOW INSPECTION FUNCTION.
X-RAY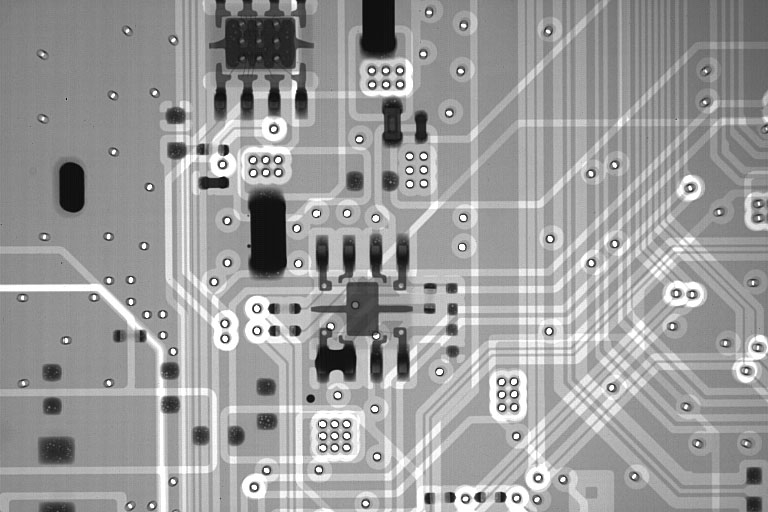 AS A RESULT OF CONTINUOUS INVESTMENT, EGO HAS ACQUIRED A NEW, HIGHLY SOPHISTICATED BGA AND QFN X-RAY INSPECTION DEVICE. BESIDES PRODUCTION TESTING, EGO ALSO OFFERS THIS TESTING SERVICE TO THIRD PARTIES.
BGA REWORKING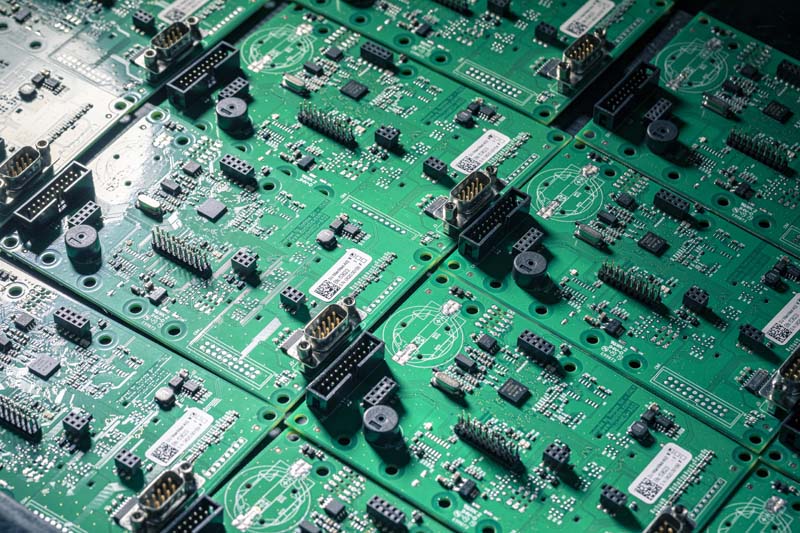 THE COMPANY USES AN OPTICAL INSPECTION AND INFRARED DEVICE FOR BGA REWORKING, IN ORDER TO PROVIDE ITS CLIENTS WITH A MEANS OF BEING ABLE TO REPLACE COMPONENTS DURING REPAIR OR MAINTENANCE WORKS.
FUNCTIONAL TESTING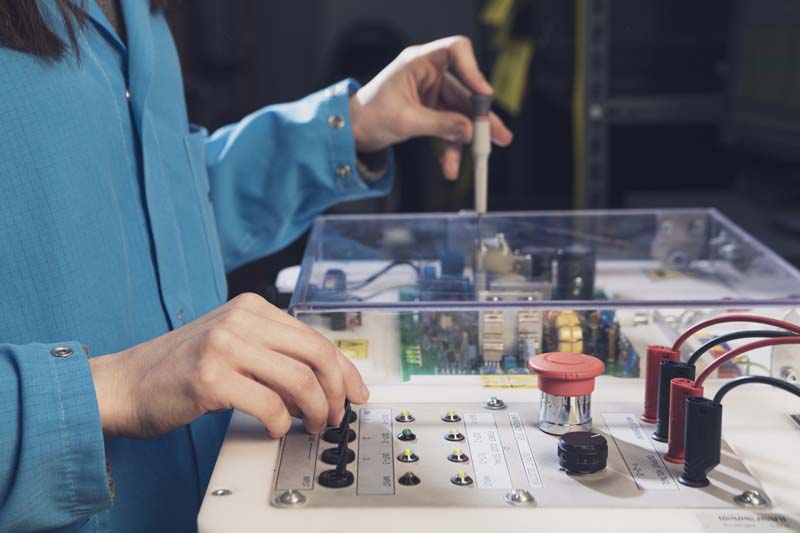 FUNCTIONAL TESTS ARE EITHER PROVIDED BY CUSTOMERS OR DEVELOPED BY EGO ACCORDING TO THE PRODUCT SPECIFICATIONS.
PARAMETRIC TESTING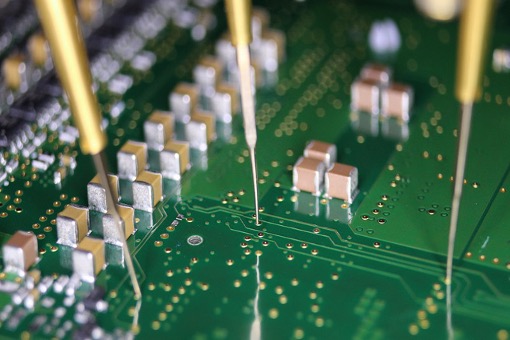 EGO OFFERS VARIOUS SOLUTIONS FOR PARAMETRIC TESTING ON SPEA, SEICA AND GENRAD PLATFORMS. ICT (IN-CIRCUIT TESTING WITH A BED OF NAILS TESTER) OR FLYING PROBES.
CLIMATIC TESTS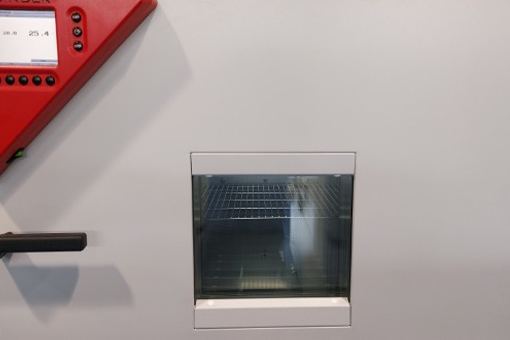 AS A RESULT OF CONTINUOUS INVESTMENT, EGO HAS ACQUIRED A NEW CLIMATATIC CHAMBER -40° TO +180° FOR CLIMATE CYCLE TESTS. BESIDES PRODUCTION TESTING, EGO ALSO OFFERS THIS TESTING FACILITY TO THIRD PARTIES.
CONFORMAL COATING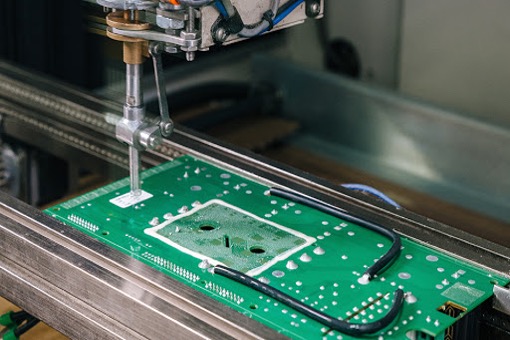 CONFORMAL COATING CONSISTS OF APPLYING A THIN LAYER OF POLYMER MATERIAL THAT ADHERES TO THE SURFACE OF THE ELECTRONIC BOARD TO PROTECT THE COMPONENTS FROM MOISTURE, DUST, CHEMICALS AND EXTREME TEMPERATURES. AT EGO, THE COATING PROCEDURE IS PERFORMED MANUALLY BY EITHER THE EXPERT OPERATORS OR VIA THE SELECTIVE MACHINE.
CO-INJECTION MOULDING AND RESIN COATING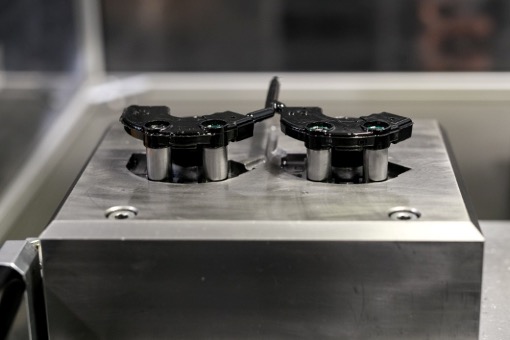 THE CO-INJECTION MOULDING TECHNIQUE ALLOWS RUBBER COMPONENTS TO BE MOULDED DIRECTLY ONTO THE ELECTRONIC BOARD; THESE COMPONENTS ADHERE PERFECTLY TO THE PIECE WITHOUT NEEDING TO USE GLUE OR MANUALLY INSERT OTHER COMPONENTS. RESIN COATING IS ANOTHER PROCESS THAT EGO OFFERS, WHICH UNLIKE THE CO-INJECTION MOULDING PROCESS, DOES NOT REQUIRE A CASTING MOULD.
FINISHED PRODUCTS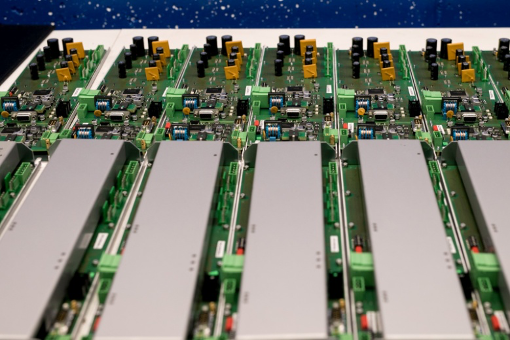 EGO HAS EXPANDED OVER THE YEARS TO PROVIDE ITS CUSTOMERS WITH A "TURNKEY" SERVICE OF FULLY-ASSEMBLED, TESTED, FINISHED AND PACKAGED PRODUCTS. BESIDES ITS IN-HOUSE ELECTRONIC BOARD PRODUCTION SERVICE, EGO ALSO OFFERS A WIRING, METAL RACK, PLASTIC CASE, MECHANICS, PACKAGING AND ACCESSORY PROCUREMENT SERVICE TO ITS CLIENTS.